Sonic HQ
Written by Ian Flynn
Art: Diana Skelly, Terry Austin, John Workman, Gabriel Cassata
"Panic in the Sky" Part Three: The finale to the "Shattered World Saga" is reaching a fevered pitch! Sonic battles Dr. Eggman in a desperate bid to rescue Chip! The Freedom Fighters invade Eggman's refinery against impossible odds! Rotor flies the Sky Patrol into a no-win battle with the Death Egg! And it only gets more nuts from there! Featuring the third of four connecting covers by comics pro Dan Schoening plus an "Egg Dragoon" variant by Mr. Sonic comics, Tracy Yardley!
We've made several site optimizations across the site over the last week or so. The music section most notably looks better and the entire site as a whole should render better on mobile devices. It's still not perfect though. (Nearly 40% of our traffic is mobile!)
Please let us know any features you would like to see!
The bundle site Groupees is running an Archie comics bundle, including the likes Sonic, Mega Man, and, well, Archie. It'll be running for two weeks as of this writing. Bonuses for the $1 tier will be unlocked along the way as more bundles are sold.
The $1 tier includes:
Sonic Boom #1
Sonic Boom #2
Sonic Boom #3
Sonic Boom #4
Sonic Boom #5
The $10 tier includes:
Sonic: Genesis
Sonic Comics Spectacular: Speed of Sound
The $20 tier includes:
Best of Sonic the Hedgehog Comics: Ultimate Collection
Sonic The Hedgehog Vol. 1: Countdown to Chaos
Check out everything on offer and pick it up here.
Written by Ian Flynn
Art: Diana Skelly, Terry Austin, John Workman, Gabriel Cassata
The suspense builds for Sonic in "Panic in the Sky" Part Two: Sonic and the Freedom Fighters have faced a crushing defeat at the hands of Dr. Eggman and his entire evil Eggman Empire! Now it becomes a race against time to get back in the fight and save the day! But when Dr. Eggman uses Chip and the power of the Chaos Emeralds, are our heroes already too late? Featuring the second of four connecting covers by comics pro Dan Schoening plus a "Gaia Colossus" variant by the excellent Evan Stanley!
Archie Comics and Sega's plans for Sonic's 25th Anniversary were made known yesterday with the reveal of Sonic Mega Drive over at Comic Book Resources. It's not clear if this is a single issue event or not. We'll definitely be keeping a close eye on it.
Written by Ian Flynn
Art: Tyson Hesse, Jack Morelli, Matt Herms
Sonic spins into a brand new, Classic-styled, SUPER SPECIAL one-shot "Mega Drive"! Join Sonic, Tails, Knuckles and Amy Rose on a brand new adventure—set after the fall of the Death Egg! The nefarious Dr. Eggman is trying to build a new engine of destruction: the MEGADRIVE, and it's up to Sonic and his whole crew to stop the mad doctor and save the day! Join Sonic and his friends in this special commemorative issue celebrating the 25th Anniversary of the Blue Blur!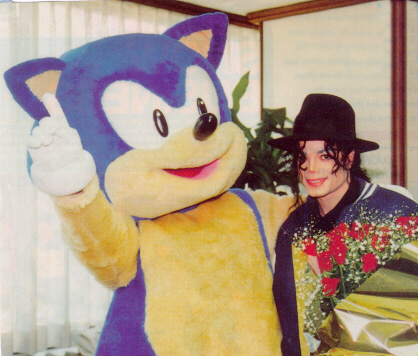 One of the biggest mysteries shrouding Sonic history is Michael Jackson's work in the Sonic the Hedgehog 3 soundtrack. While it was hypothesized he was involved in some way, there are conflicting reports about why he departed and whether his music survived the final release.
Well, the Huffington Post recently published a rather nice article regarding all that, titled The Michael Jackson Video Game Conspiracy.
It details the history of the conspiracy, leading into new interviews with some of the people involved with the game. Jackson's team insists their music did make it into the game. Though their stories imply they really did work on it as a team, rather than Michael composing solo.
Of course that last point was pretty much confirmed with the recent discovery of a previously unreleased song by The Jetzons, Brad Buxer's former band. That song being "Hard Times" from 1982, which sounds identical Ice Cap Zone.
One detail that caught my attention was that Jackson's team turned in around 41 songs to Sega. Now imagine if Sega could release those tracks like they did the demos recorded by Masato Nakamura for the Sonic 1&2 soundtrack. Just a thought...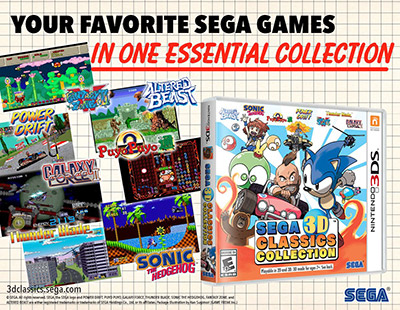 This is the second collection released in Japan, now coming to America under the name Sega 3D Classics Collection. It's set for release on April 26 for just $30.
It contains five arcade games (Fantasy Zone II W, Galaxy Force II, Power Drift, Puyo Puyo 2, Thunder Blade), two Genesis games (Altered Beast, Sonic the Hedgehog), plus two Master System games (Fantasy Zone II, Maze Walker).
Power Drift and Puyo Puyo 2 haven't been released on the eShop as solo games, so they'll probably be exclusive to this collection for a bit.
Hey, maybe if this one sells well, they'll release the first collection as Sega 3D Classics Collection 2! Wouldn't that be confusing...
Written by Ian Flynn
Art: Diana Skelly, Terry Austin, John Workman, Gabriel Cassata
SONIC and friends get into some BIG TROUBLE in "Panic in the Sky" Part One: Sonic's Freedom Fighters are finally ready to restore the planet! Unless, of course, someone does even more damage! Cue: the evil Dr. Eggman (of course)! He has a plan of his own and strikes first! The mad doctor launches a multi-pronged assault that will leave you speechless-everything has been building up to this moment! The final chapter to the Shattered World Saga begins here! Featuring the first of four EPIC connecting covers by mega-talent Dan Schoening and an "Evil Win" variant by the wonderful Lamar Wells!
Written by Ian Flynn
Art: Jamal Peppers, Jennifer Hernandez, Terry Austin, John Workman, Gabriel Cassata
SONIC and the FREEDOM FIGHTERS are GO in "The Mission": Sonic and Sally put out the call to the world! They have the Chaos Emeralds, they have the Gaia Keys, and now they have a plan! And the central hero to it all is… Cream?! Then, in "Zero Hour," Dr. Eggman finally tracks down Phage! And when Tails Doll gives the mad doctor some crucial info, will Sonic's plans for saving the world fall apart? Featuring cover art by the delightful Diana Skelly and a "GUARDIANS" variant cover by the amazing Adam Bryce Thomas!