Sonic HQ
It's interesting isn't it?
It's a testament to the oldness feeling and it's very real.
It feels like just yesterday it was Sonic's 10th Anniversary, celebrating with Sonic Adventure 2. I remember getting that along with the collector's edition which had that nifty coin. (Unfortunately now I can't find it).
We then celebrated Sonic's 15th anniversary with Sonic 06. AHEM, moving on...
For the 20th anniversary we got a treat with Sonic Generations.
Now here we are with today being Sonic's 25th anniversary. We don't have a game announcement yet but that's expected to be next month. I think everyone is in agreement that Sega should in no way rush the development of this game. You may be asking however, did Sega drop us anything? There is this nifty retrospective they posted on their youtube found below.
Here's to the next 25 years. Never stop going fast, Sonic.
The Humble Sonic 25th Anniverary Bundle is live, featuring lotsa Sonic games and comics on the cheap.
$1 tier:
Sonic the Hedgehog (Sega Genesis Classics DLC)
Sonic Adventure DX
Sonic 3D Blast (Sega Genesis Classics DLC)
Sonic CD
Beat the average:
Sonic the Hedgehog 4 - Episode 1
Sonic & Sega All-Stars Racing
Sonic the Hedgehog 2 (Sega Genesis Classics DLC)
Sonic Adventure 2 (+DLC)
(More stuff to be revealed next week.)
$10 tier:
Sonic Lost World
Sonic Generations (+DLC)
Sonic the Hedgehog 4 - Episode 2
Sonic & All-Stars Racing Transformed (+DLC)
$35 tier:
$1 tier:
Sonic Universe Volume 6: Treasure Team Tango
Sonic The Hedgehog: 264 - 272, 276 - 279
Sonic Universe: 45, 55 - 58
Sonic Boom: 1 - 4
Beat the average:
Sonic The Hedgehog: 260 - 263
Sonic Universe: 59 - 74, 83 - 86
Sonic Boom: 5 - 7
$15 tier:
Sonic The Hedgehog: 226 - 229, 252 - 259, 280 - 283
Sonic Universe: 18 - 20, 75, 79 - 82
Sonic Super Digest: 13 - 16
Right now the average is hovering around the $10 range (and even over it, previously), so there's not really any reason to choose it over the third tier. As always, paying for higher tiers nets you all the stuff in the lower ones. And you will get those bonus games and comics to be revealed later, so long as you paid for it. (Also these are all Steam games.)
The games bundle also includes a free sampler of Sonic comics, which is open to everybody. Nice, right? Nice.
So yeah, pretty nice deal all around. Pick it up, donate to charity. Or don't. You don't have to. You do you, ok.
Update: This article has been updated to reflect the sale of Sonic comics.
Written by Ian Flynn
Art: Diana Skelly, Terry Austin, John Workman, Gabriel Cassata
SONIC BATTLES at the CENTER of the PLANET in "Panic in the Sky" Part Four: This is it—the cataclysmic clash and ferocious finale to the Shattered World Saga! Super Sonic leads Chip into battle against the dreaded Dark Gaia with the Freedom Fighters at ground zero! With the fate of the world at stake, who will actually be able to make it home? Featuring the fourth of four EPIC connecting covers by mega-talent Dan Schoening and a "Super" variant by full-time editor, first-time cover artist Vincent Lovallo!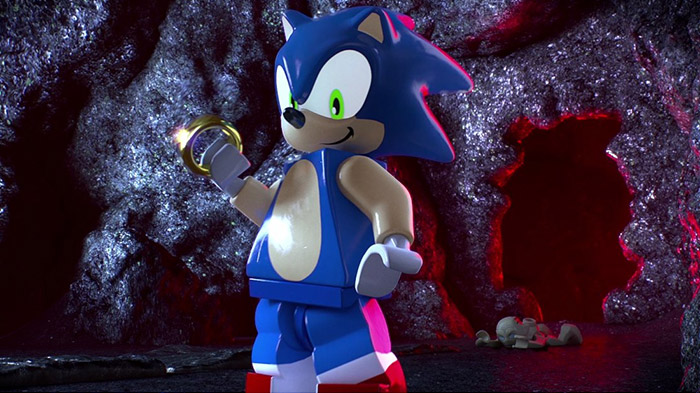 Sega announced via their official Sonic twitter account today that Sonic would be joining in with Lego Dimensions. He will be part of wave 6, an expansion pack, expected to release this coming September. Sonic accompanies 15 other franchises for this wave. In total there will be 30 franchises as of wave 6.
If you're unfamiliar with Lego Dimensions, it's an adventure game developed by Traveller's Tales. You can find out more about Lego Dimensions here.
Written by Ian Flynn
Art: Diana Skelly, Terry Austin, John Workman, Gabriel Cassata
"Panic in the Sky" Part Three: The finale to the "Shattered World Saga" is reaching a fevered pitch! Sonic battles Dr. Eggman in a desperate bid to rescue Chip! The Freedom Fighters invade Eggman's refinery against impossible odds! Rotor flies the Sky Patrol into a no-win battle with the Death Egg! And it only gets more nuts from there! Featuring the third of four connecting covers by comics pro Dan Schoening plus an "Egg Dragoon" variant by Mr. Sonic comics, Tracy Yardley!
We've made several site optimizations across the site over the last week or so. The music section most notably looks better and the entire site as a whole should render better on mobile devices. It's still not perfect though. (Nearly 40% of our traffic is mobile!)
Please let us know any features you would like to see!
The bundle site Groupees is running an Archie comics bundle, including the likes Sonic, Mega Man, and, well, Archie. It'll be running for two weeks as of this writing. Bonuses for the $1 tier will be unlocked along the way as more bundles are sold.
The $1 tier includes:
Sonic Boom #1
Sonic Boom #2
Sonic Boom #3
Sonic Boom #4
Sonic Boom #5
The $10 tier includes:
Sonic: Genesis
Sonic Comics Spectacular: Speed of Sound
The $20 tier includes:
Best of Sonic the Hedgehog Comics: Ultimate Collection
Sonic The Hedgehog Vol. 1: Countdown to Chaos
Check out everything on offer and pick it up here.
Written by Ian Flynn
Art: Diana Skelly, Terry Austin, John Workman, Gabriel Cassata
The suspense builds for Sonic in "Panic in the Sky" Part Two: Sonic and the Freedom Fighters have faced a crushing defeat at the hands of Dr. Eggman and his entire evil Eggman Empire! Now it becomes a race against time to get back in the fight and save the day! But when Dr. Eggman uses Chip and the power of the Chaos Emeralds, are our heroes already too late? Featuring the second of four connecting covers by comics pro Dan Schoening plus a "Gaia Colossus" variant by the excellent Evan Stanley!
Archie Comics and Sega's plans for Sonic's 25th Anniversary were made known yesterday with the reveal of Sonic Mega Drive over at Comic Book Resources. It's not clear if this is a single issue event or not. We'll definitely be keeping a close eye on it.
Written by Ian Flynn
Art: Tyson Hesse, Jack Morelli, Matt Herms
Sonic spins into a brand new, Classic-styled, SUPER SPECIAL one-shot "Mega Drive"! Join Sonic, Tails, Knuckles and Amy Rose on a brand new adventure—set after the fall of the Death Egg! The nefarious Dr. Eggman is trying to build a new engine of destruction: the MEGADRIVE, and it's up to Sonic and his whole crew to stop the mad doctor and save the day! Join Sonic and his friends in this special commemorative issue celebrating the 25th Anniversary of the Blue Blur!