A quick look into why Sega may want to explore a mobile chao game.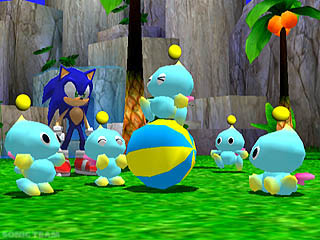 Sega has lately been doing very well in the mobile space. Sonic 4, Sonic CD, Sonic 1 and 2, Sonic Dash, Sonic Jump, Crazy Taxi, just to name a few, have done very well in their new mobile environment. Sega clearly is experimenting even more in this space with games built from the ground up for mobile. Sonic Dash has proven itself there's a spot for Sonic strictly on mobile and the upcoming game Crazy Tax: City Rush also looks poised to do well.
This is why Sega should make a Chao Garden game for mobile (iOS and Android). Fans have eagerly anticipated another Chao Garden for years and times have changed tremendously since Sonic Adventure 2. I'll outline a couple key points.
Raising Chao + Internet = Instant Win
Before, keeping tabs on your chao meant either booting up your Dreamcast/Gamecube and going into the chao garden or transferring them to a VMU (or Gameboy Advance if on Gamecube). On a phone or tablet, they're always just right there and potentially living in the cloud. This means if you get a new device, they'll follow suit. Redownload the app, login, no problem.
The always connected nature we've lately gotten addicted to also brings several features to the table that weren't possible before. Tweeting, sharing on Facebook, Google is a proven way to spread word of the game and get engagement.
In App Purchases
I can already picture this now. In app purchases for all sorts of various hats, fruits, rare chao eggs, seeds for trees, toys etc. You would be able to also obtain most of this naturally but the option would be there to pay for it as well.
A chao garden app has the potential to be big. It will be interesting to see what Sega does in the oncoming months in the mobile space.