Sega held an event today at SXSW. There was no official stream, however, Sonic sites such as TSSZ and Tails Channel were able to stream from the audience.
Lets take a look at what was announced.
Sonic Mania
Flying Battery for Sonic Mania was shown and Sega has released a video on their Youtube channel as seen below.
Unfortunatately, Sonic Mania has also been postponed to the summer. This could mean they may aim to release it for Sonic's birthday on June 23rd but it's too early to say.
Sonic Forces
Project Sonic 2017 has an actual name now. Sonic Forces. Sega showed off a new trailer initially that was very similar to the original but tweaked a bit and included the game title. Another trailer was shown that includes gameplay footage.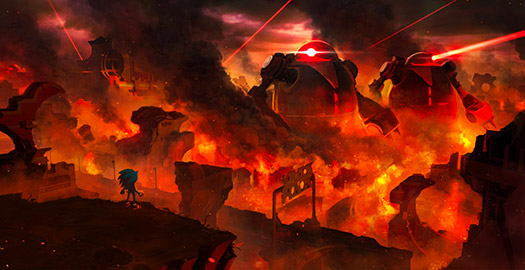 We were also shown beautiful concept art. Click to enlarge.
Mania and Forces are shaping up to hopefully redefine Sonic as a brand. Looking forward to both titles.
Update: Mar 17 2017
Edited to include high quality gameplay footage and screenshots.
Update 2: Mar 17 2017
The main theme has been added to the music section. Also added more Mania assets.