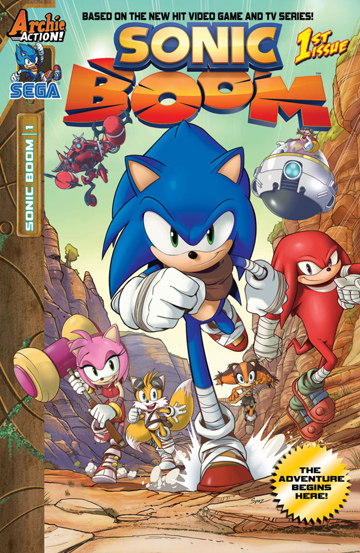 That didn't take long.
Archie recently dropped hints of this and now it's confirmed. A new comic book series "Sonic Boom" will make its way to fans starting in October. Ian Flynn and Evan Stanley will craft each issue which will also be stand alone in nature like the cartoon. We'll have a Sonic Boom comic category shortly.
This was posted on the Archie Comics website:
Here comes the BOOM! Get in on the ground floor with the ALL-NEW ONGOING SONIC COMIC BOOK SERIES from Archie Comics based on the new hit TV series and video game: Sonic Boom! This ground-breaking new chapter in the Sonic the Hedgehog franchise puts a new "spin" on all your favorite heroes and villains—plus new faces and hilarious new stories chock-full of action—and it's all brought to you by the folks that bring the hit series Sonic the Hedgehog and Sonic Universe to you each and every month! Subscribe today and own a piece of Sonic comic history!
IGN has posted an interview with Ian Flynn and Paul Kaminski with some further details.
Be sure to also click the the 4 variant covers below and to the side to see the full sized image.