That's right, it's me! I'm there! And you can be too!!
This year, TGS has launched a virtual online venue anyone can visit. You can check it out in VR or on desktop. It's a huge and colorful area with detailed booths from various companies, typically full of trailers for their latest games. There is also a theater area for viewing scheduled livestreams.
And it's all online, with other people wandering about. You can customize your avatar color and greeting message, and change your shirt design with "fragments of crystal" you can find throughout the map.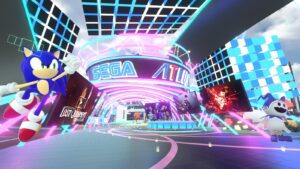 Controls for using mouse and keyboard are a little odd; not exactly what you'd expect from a first person game. WASD controls movement, arrow keys for camera, and mouse for clicking and grabbing things. It takes some getting used to.
Sega/Atlus's booth, located in the "Digital Area", includes a trailer for Sonic Colors Ultimate. (Hot tip: Watching it will net you the Sonic t-shirt I'm wearing above.)
Check out the official website for more details and a download link… and perhaps I'll see you there?