Introduction:
"Sonic the Hedgehog" is a huge franchise appearing in comics, shows, movies, and, of course, games and has inspired the lives of many gamers. After the completion of "Sonic Unleashed," Sonic Team discussed ways to celebrate the blue blur's 20th anniversary. The team decided to split the gameplay between Classic and Modern. Dimps helped develop the 3DS version of the game which the team decided to start from scratch and make the game a celebration of Sonic's portable history. Ports for the Wii, DS, and Playstation Portable (PSP) were scrapped, however. On Nov. 1, 2011, "Sonic Generations" was released for Playstation 3 and Xbox 360. The Windows version was released two days later and the 3DS game came out on the 22nd. So, is this game a timeless Classic? Or a Modern flop?
Note: I will be reviewing the PC version for this review.
The Story:
Sonic was having a birthday party with his friends but was interrupted by a time-traveling entity known as the Time Eater. He scatters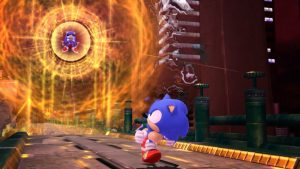 Sonic's friends into different places of time and Sonic ends up in a space void of time. In order to restore time, he and his past self, Classic
Sonic, must go through the levels of his past.
The story is….fine. As you go through the game, characters will come back but they don't do much except challenge you in certain missions. We only see Robotnik (Classic Eggman) at the end of the game and even then it seems Modern Eggman takes the spotlight from him. Overall, it's quite lacking and I wish we saw more of these characters interact. I give the story a B.
The Gameplay:
Each world is divided into two acts, the first act is for Classic Sonic which is a 2D version of that level. The second act is a 3D version of the level where you play as Modern Sonic. "What are the differences between Modern and Classic Sonic," you ask? Well, Classic Sonic functions similarly to his entries in the Genesis games. He can spin-dash and destroy enemies by hopping on them. Modern Sonic is a little more complicated. He uses a homing attack that he can target at enemies and destroy them and can boost which makes him go incredibly fast. In order to fill the boost gauge, he must collect rings, destroy enemies, or perform tricks.
Besides the acts, there are also side missions that you can do to unlock artwork for Generations and previous Sonic games along with music from these previous games. These missions consist of challenges such as racing against a clone, surviving with a limited amount of rings, avoiding obstacles in order to reach the goal, etc.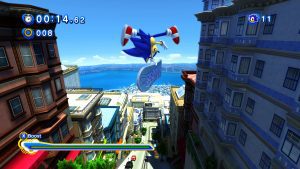 I had some fun with the gameplay. It was really fun exploring the 3D versions of 2D levels like Chemical Plant and Sky Sanctuary along with the 2D versions of City Escape and Crisis City. My two complaints are that Classic Sonic feels a bit slippery which can make platforming a pain and the final boss felt very boring to me. It just didn't feel as exciting and the characters would just keep talking and talking and talking and not actually do anything (just look up "that looks like a homing shot"). I give the gameplay an A-.
The Soundtrack:
The soundtrack is made up of classic and modern remixes of levels for their respective acts. My favorite is the classic remix of City Escape. As you unlock music, you can select the unlocked music and play it as you play the acts or side missions. I loved unlocking music. However, I wish more of the unlocked songs were remixed. There are a few unlocked songs that are remixes (Toxic Caves being my favorite) but they seem to be slightly different from the original. I give the soundtrack an A.
Conclusion:
To conclude, I enjoyed playing this game. Its biggest flaw is its story but overall, it's a good game. I give it an 8/10.
At a Glance: Sonic Generations
Summary: Restore time to the world as you explore levels old and new as both Classic and Modern Sonic.
Rated: E for Everyone: Cartoon Violence
Price: Xbox 360: $14.99 (Gamestop) PS3: $19.99 (Gamestop) 3DS: $24.99 (Gamestop) PC: $19.99 (Steam)
Distributor: Sega
Systems: Xbox 360, PS3, 3DS, PC
Release Date: PS3 and Xbox 360: November 1, 2011 PC: November 3, 2011 3DS: November 22, 2011.
Rating: 8/10