Discotek Media dropped a mountain of new announcements regarding their plans for 2022 during their holiday panel livestream. One big surprise was that they've acquired the license to the cult classic Adventures of Sonic the Hedgehog cartoon!
There will be loads of special features included, such as the original pilot(!), the Sonic Christmas Blast special, original commercials, and more.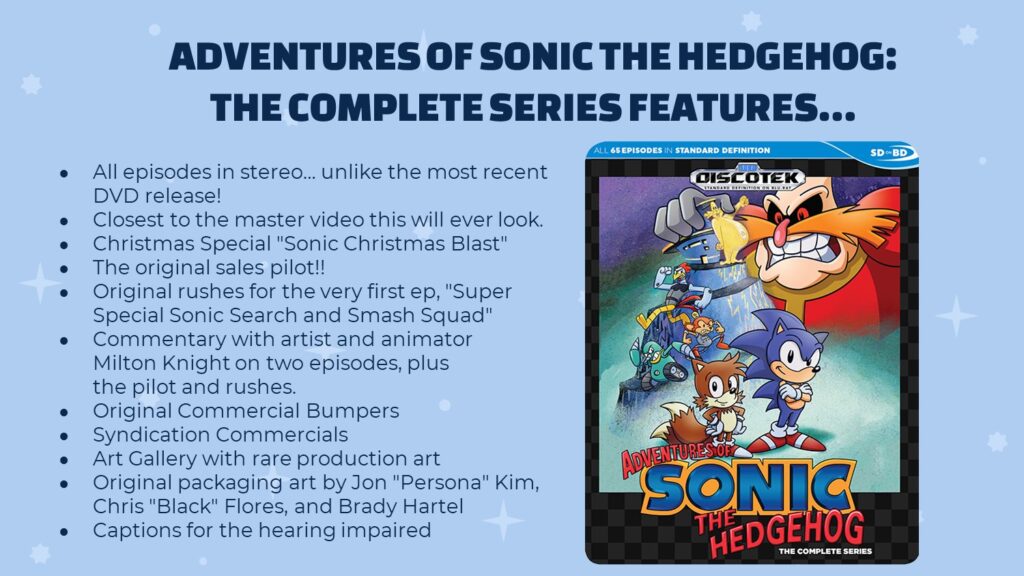 Bare in mind, the show won't be in HD, unfortunately enough. This is an "SD-BD" release, meaning these are the original 480p masters for television. From the sounds of it, this seems to be the highest quality available. A lot of editing work was also done to fix up video and audio errors that were in the masters provided.
Discotek largely focuses on high quality releases of obscure vintage anime, but they've dabbled with western cartoons before. They've previously released DVD sets of the Mega Man and Street Fighter cartoons, and also just announced a Blu-Ray release of Street Sharks. Jawsome.
The Adventures of Sonic the Hedgehog complete series Blu-Ray set will arrive in February 2022.
Watch the full live stream here, or read the lengthy Twitter breakdown here (or jump to the relevant Sonic posts here).